It's easy to understand why motor racing is such a glamour sport, fast cars and courageous men have long attracted glamourous women.
The bike race, now is that a glamourous sport?
Sure Lance Armstrong dated Sheryl Crow, but do rock and roll country and western singers count as glamourous, now that's debatable in my book.
Cycle racing is no such sport, it's beer and frites at a Belgium Kermesse, it's the peloton strung out in the gutter in the cross wind in Holland, cobbles and rain in northern France, cracking on a mountain climb in the searing heat, so many solitary training miles year after year. Glamour, we chose the wrong sport.
Those countries that are endeared by the love of the sport and hold cycling closest to their hearts, Italy, Belgium, Holland, France and others, have such devoted fans that not even doping scandals dilute their thirst for the sport.
Divided by languages and cultures, even by the style of races they host, the fans are united, they are united by their love of the sport, and in many cases they are working class people.
Perhaps the working class can relate to the 'hard graft' of the bike race, equating that grafting to their everyday lives, factory floors, blue collar work, contented, but hardly glamourous. No holidaying in 5 star resorts on the Riviera this year darling.
Here in Italia it seems little different, wander around the start line and as glamourous as it gets may be a glance of the rather attractive Elisa Basso, Italian star rider, Ivan's sister.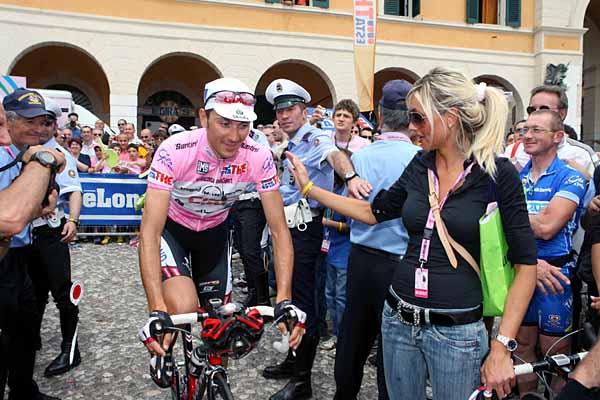 When you stand atop the podium, one hand will hold the bouquet of flowers, and in the other hand will be the bag of groceries awarded to the top 10 finishers that day.
Return home to put food on the table, it doesn't get more working class than that...
2nd at Trezzano Rosa after a wet and cold 100km.